2022 Sociology Newsletter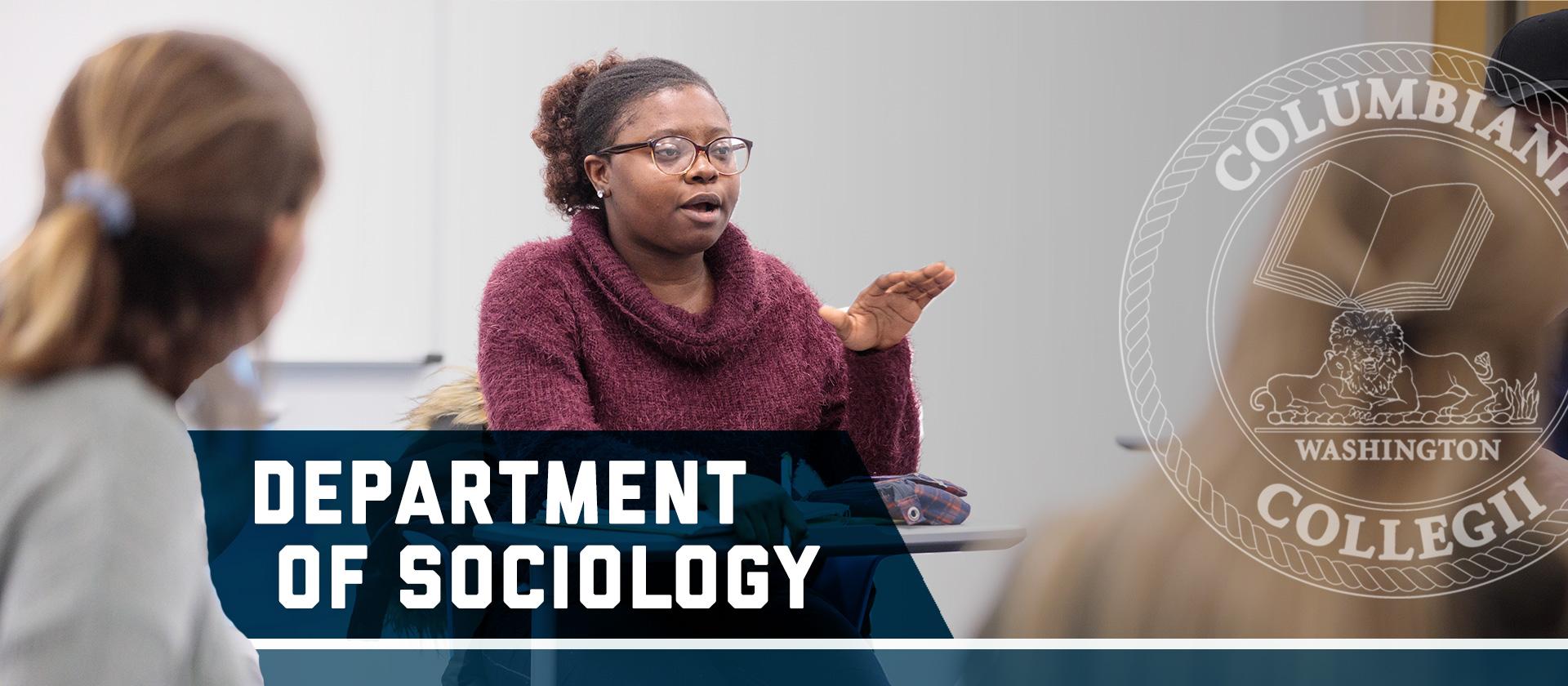 ---
Message from the Chair
Greetings Sociology Alumni from Washington, D.C.!
As I write this message, the pandemic continues to affect our lives. Despite challenges, GW was able to welcome students back in-person last fall and our campus is once again filled with students and great excitement is in the air.
At the end of this spring semester, Professor of Sociology and Public Policy & Public Administration Greg Squires will retire after 22 years at GW. To honor his tremendous contribution and celebrate his retirement, we had a panel event titled "The Segregated City" in October 2021. It was covered in GW Today. You can read more about Greg's work, contributions and the panel event in this newsletter.
As always, thank you for your generosity and for continuing to engage with the GW community. Please stay connected with us by following the department's various social media feeds for our events, students' achievement and faculty news. We are always happy to hear from you.
Sincerely,
Dr. Hiromi Ishizawa
Chair, Department of Sociology
---
Department Spotlights
Celebrating Professor Gregory D. Squires
This spring, after 21 years of service at GW, Gregory D. Squires will retire from his faculty positions in the Department of Sociology and the Trachtenberg School of Public Policy and Public Administration. A part of the department since 2000, he served as department chair for 11 years and taught various courses related to race and urban sociology.
Greg has been dogged in his production of accessible, policy-shaping research that people find both interesting and useful—sometimes rare features of academic research. His prolific work has contributed to public and academic conversations about predatory lending, insurance redlining and fair housing policy. The Henry G. Bryant Professor of Sociology and Public Affairs at Princeton University Douglas S. Massey noted Greg's accomplishments: "In my opinion, he is one of the foremost urban sociologists in the United States today."
Greg's early work meticulously documented the structural forces that create economically distressed Black neighborhoods. He went on to uncover discrimination in environmental pollution and disaster relief, and in the mortgage, insurance and buying/selling markets. Just as much as Greg has studied problems, he has also studied solutions, such as the Community Reinvestment Act, equal employment laws, residential integration and federal regulation. This solutions-oriented approach was likely born of the fact that Greg spent seven years as a research analyst at the U.S. Commission on Civil Rights after getting his PhD. This commitment to change and racial justice is robust and ongoing.
The level of productivity Greg has maintained over the last two decades and throughout his career has never wavered. This is true even while he served as chair of the department and did things that many in academia consider to be "extra," such as testifying at public hearings, writing op-eds for newspapers and blogs, serving as an expert witness and consulting for government agencies and non-profit organizations. As the author or editor of 17 books, 76 peer-reviewed journal articles, 32 book chapters, 16 encyclopedia entries, two review essays, 55 book reviews and 44 research grants, Greg has worked with colleagues across all disciplines. In recognition, he has received career awards from five major professional associations, including the Society for the Study of Social Problems and the American Sociological Association.
In October 2021, the Department of Sociology held a panel event titled "The Segregated City" to celebrate Greg's career. The department invited panelists who are leaders in the field of fair housing and racial segregation: James Coleman, Professor of Sociology & Social Policy at Johns Hopkins University; Stefanie DeLuca, Henry G. Bryant Professor of Sociology and Public Affairs at Princeton University; Douglas Massey, the President and CEO of the National Fair Housing Alliance; Lisa Rice; and Distinguished Fellow of the Economic Policy Institute Richard Rothstein. More than 100 people from the GW community and beyond participated in the virtual event.
After retirement, Greg will become a columnist for Social Policy, a magazine that has published the work of leading scholars and activists on social and economic justice issues for more than 50 years. Greg is truly a model of GW's strong commitment to public service and civic engagement.
Soaring to Success with Double Alumna Marwa Moaz
Double alumna Marwa Moaz, BA '16, MA '18, owes her success and sociological baseline to the Department of Sociology. She discussed how the program continues to transform her professional and personal life:
I often look back and remember my time as a sociology student at GW as one filled with diverse exposure of perspectives and meaningful mentorship from my professors. I always felt lucky to have been part of a department as supportive as the Department of Sociology. As the first of two students to be a part of the 5-year BA-MA program, I had the opportunity to thoroughly train myself as a mixed methods researcher and theoretical thinker.
These skills allowed me to find great success in the private and government sector. Today, I have a consulting career as a qualitative diversity, equity, and inclusion subject matter expert at Booz Allen Hamilton. I am able to utilize the skills I learned as a student at GW to propel myself in my career and make a positive impact on the communities I care most about through my work.
Recently, I had the pleasure and privilege of returning to GW's Department of Sociology as an adjunct professor. I had the humbling experience of being able to teach "Intro to Sociology" in the same auditorium-style lecture hall that I lined up to graduate in a few years prior.
As I wrap up my PhD in communication at American University, I hope to continue finding ways to give back to the department, the department that raised me. I owe all of my success and the baseline of my sociological knowledge to the many sociology professors and mentors who watched me grow into the woman, professional and professor that I am today. I will always be a proud double alumna of GW's Sociology Department. #RaiseHigh.
---
Alumni Class Notes
Charles Baxter, BA '03, is now a treasury agent with the Office of Inspector General in the Chicago Field Office. He was previously a U.S. Secret Service agent for 15 years assigned to offices throughout the country and overseas.
Francis Beakes, MA '77, is retired and loving it.
Don Beskind, BA '69, is a law professor at Duke University where he teaches torts and  evidence, and runs the Trial Skills program. For 40 years, he was a trial lawyer in North Carolina.
Mallory Broberg, BA '19, attends the George Washington University Law School. After she receives her JD in May 2022, Mallory plans to work for a medium-sized law firm in Virginia.
Mariela Cabanillas, BA '21, is a grants coordinator with La Clinica del Pueblo, a nonprofit health center that promotes culturally and linguistically appropriate health services for the Latinx population in the Washington, D.C., area.
Tessa Campbell, BA '07, has been with Deloitte since 2015 and recently joined the Digital Enablement Team, helping the organization with the implementation of new technologies.
Melissa Doman, BA '07, teaches organizations across industries and around the world how to constructively talk about mental health at work.
Johanna Fishbein, BA '04, moved to Lugano, Switzerland, in July 2020 to become director of university and college counseling at The American School in Switzerland.
Einav Glazer, BA '20, and moved to New Orleans to teach reading to K-2 for Teach for America.
Sara Goldrick-Rab, BA '98, is the president and founder of The Hope Center for College, Community, and Justice. She doubled the size of her staff and built a robust policy team to drive systemic changes reducing food and housing insecurity among college students.
Eden Hankin, BA '18, is a 1L at American University, Washington College of Law. Previously, Eden was a paralegal at Wiley Rein LLP in Washington, D.C.
Jacqueline Hazlett, MA '17, was promoted to senior analyst at the Financial Industry Regulatory Authority.
Paul Kim, BA '94, lives in Las Vegas, managing a private equity real estate fund after living for 25 years overseas in Tokyo, Singapore and Seoul.
Melissa Lenner, BA '12, and her husband Alan Tuszynski launched a remote podcast production company called Pretty Easy Podcasts. They produce podcasts in a variety of genres, ranging from mental health, comedy, technology and true crime.
Caitlin Marquis, BA '10, leads the Healthy Hampshire initiative at the Collaborative for Educational Services in Northampton, Mass. Healthy Hampshire improves community health by focusing on policy, systems and environmental changes to help people eat better and move more.
Sara Mostafa, BS '12, MPH '14, now works in full-time sports ministry with the Fellowship of Christian Athletes, helping coaches and athletes see beyond the scoreboard and focus on character development. She and her husband Josiah welcomed their son Isaac in August 2021.
Nicholas Peroni, BA '21, started his career with the Pennsylvania State Police in February as a state trooper. He will graduate from the academy in August and begin working on the street shortly after.
John Scalia, BA '89, MSFS '92, was awarded the U.S. Marshals Service Meritorious Service Award in December 2021 for his contributions to the Federal Prisoner Detention Program. His expertise has increased the program's operational effectiveness and effectiveness.
David Schoen, BA '80, is a civil rights and criminal defense lawyer in Montgomery, Ala.
Jaime Schorr, BA '03, is the chief procurement officer for the State of Maine. She has been have been voted by her colleagues to serve as president of the National Association of Chief Procurement Officials and serve on the founding steering committee of StateRamp.
Martha Stapleton, MA '97, uses her MA in sociology to support rigorous qualitative and quantitative research methods as a senior research director with NORC at the University of Chicago.
Jack Susman, MS '61, is a professor in the GW School of Public Health.
Adam Tanker, BA '04, is a partner at the Law Firm of Obermayer, Rebmann, Maxwell & Hippel, LLP in Philadelphia, Penn.  He concentrates his practice in family law and criminal defense.
Hazel Weiser, BA '70, retired after a career as an attorney, law professor and serving as the executive director of the Society of American Law Teachers. She is now turning her focus to voting rights and mentoring young people to enter the legal profession.
Dana Yaffee, BA '76, is pursuing a degree in counseling after 45 years and three other degrees. Once she passes her licensing exam, she will practice until she decides to retire.
---
Faculty Kudos
Daina Eglitis published Central and East European Politics, 5th edition, with Rowman and Littlefield, and a 5th edition of her Discover Sociology introductory sociology textbook with SAGE.
Terrie Gale authored the letter to the editor in The New York Times, "Unarmed Drivers Killed by Police in Traffic Stops."
Psychology Today published an editorial examining a medical journal article on health and housing written by Antwan Jones, Gregory D. Squires and Carolynn Nixon titled "Can Affordable Housing Improve Heart Health? Study links inclusionary zoning policies to improved cardiovascular outcomes."
Antwan Jones served on the invitation-only Technical Advisory Committee for the National Science Foundation and UIUP co-sponsored workshop "Emerging Bioeconomies: Ecosystems and Society."
Ivy Ken published an article in Feminist Theory and a chapter in the Routledge Companion to Intersectionality with alumna Allison Suppan Helmuth, MA '14. She also published papers about COVID in the porkpacking industry in the Journal of White Collar and Corporate Crime and a special issue of Crime, Law, and Social Change on food crimes, food harms and food systems alongside alumni Kenneth Sebastian León, MA '13.
Eiko Strader has a forthcoming article in Family Relations titled "State Work-Family Contexts and the Wage Gap by Gender and Parenthood," which was just published in Public Administration Review. She also joined the editorial board for Public Administration Review and got invited to an event co-sponsored by the Institute for Women's Policy Research, Program for Gender Analysis in Economics at American University and the Carework Network to discuss military childcare.
Gregory D. Squires' article "Academic Institutions: Roadblocks or Ramps?" was recently published in Footnotes. He has also been invited to serve as a regular columnist for the magazine Social Policy: Organizing for Social & Economic Justice beginning in 2022.
Part-time faculty members Jill Brantley and Pat Lengermann were awarded the Career Achievement Award by the ASA Section on the History of Sociology and Social Thought at the August 2021 meeting.