Amitai Etzioni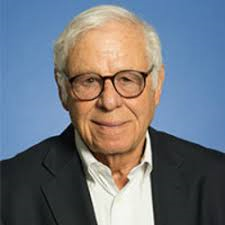 Amitai Etzioni
University Professor of Sociology
---
Dr. Amitai Etzioni was the first University Professor of The George Washington University. In 1987-1989, he served as the Thomas Henry Carroll Ford Foundation Professor at the Harvard Business School. He served as Senior Advisor to the White House from 1979-1980. He was guest scholar at the Brookings Institution in 1978-1979. For 20 years (1958-1978), he served as Professor of Sociology at Columbia University; part of the time, as Chairman of the Department. Dr. Etzioni founded and was the first president (1989-90) of the International Society for the Advancement of Socio-Economics. He is the editor of The Responsive Community: Rights and Responsibilities, a communitarian quarterly. In 1991, the press started referring to Dr. Etzioni as the "guru" of the communitarian movement. Dr. Etzioni is the author of 19 books, including the recently released, The Monochrome Society (2001, Princeton University Press).
Outside of academic, Dr. Etzioni's voice was frequently heard in the leading news media, in articles in publications such as The New York Times, The Washington Post, and The Wall Street Journal, and in appearances on network television. A 1982 study ranked Dr. Etzioni as the leading expert of 30 who made "major contributions to public policy in the preceding decade." He was awarded The Seventh James Wilbur Award for Extraordinary Contributions to the Appreciation and Advancement of Human Values by the Conference on Value Inquiry. He also received the Sociological Practice Association's Outstanding Contribution Award. Dr. Etzioni served as the president of the American Sociological Association from 1994-95.
---
Books
Privacy in a Cyber Age: Policy and Practice. Palgrave Macmillan, 2015.
The New Normal: Finding a Balance Between Individual Rights and the Common Good. New Brunswick: Transaction Publishers, 2014.
From Empire to Community: A New Approach to International Relations. New York: Palgrave Macmillan, 2004.
My Brother's Keeper: A Memoir and a Message. Lanham, MD: Rowman & Littlefield, 2003.
Rights vs. Public Safety After 9/11: America in the Age of Terrorism. Rowman & Littlefield, 2003. (With Jason H. Marsh)
Voluntary Simplicity: Responding to Consumer Culture. Rowman & Littlefield, 2003. (With Daniel Doherty)
The Monochrome Society. Princeton University Press, 2001
The Limits of Privacy. Basic Books, 1999.
The New Golden Rule: Community and Morality in a Democratic Society. Basic Books, 1996.
The Spirit of Community: Rights, Responsibilities and the Communitarian Agenda. Crown Publishers, 1993.
PhD University of California at Berkeley, 1958